Since I wrote my previous post about things I love, I continue to have loving thoughts run through my brain. I'll see something, hear something or eat something and I think, "I absolutely LOVE this! I should have blogged about it!"
Well, why not?
I give you the second half of the Things That I Love and Adore
♥ ○ ♥ ○ ♥ ○ ♥ ○ ♥ ○ ♥ ○ ♥ ○ ♥ ○ ♥ ○ ♥ ○ ♥ ○ ♥ ○ ♥
I LOVE
Judge Judy! This is not a new declaration or a new love. I have enjoyed her show for a really long time. Every day at noon, you will find me folding laundry or making my bed or doing some sort of task in my bedroom in front of the TV, so I can have my 'Judge Judy' fix. I enjoy watching her yell, "ARE YOU STUPID?" or "ON YOUR BEST DAY YOU'RE NOT AS SMART AS I AM ON MY WORST DAY" or "I'M THE BOSS APPLESAUCE" or "ARE YOU ON ANY MEDICATION?"
Seriously, how can you go wrong with a woman like her around?
I was sad when I read in yesterday's news that she had been rushed to the hospital. This world would be a sad place without her sharp, acerbic wit.
♥ ○ ♥ ○ ♥ ○ ♥ ○ ♥ ○ ♥ ○ ♥ ○ ♥ ○ ♥ ○ ♥ ○ ♥ ○ ♥ ○ ♥
I LOVE
chocolate covered cinnamon bears. Again, this is NOT a new declaration or a new love.
I LOVE
that Winco sells them in bulk.
Thank heavens Florin doesn't have a Winco which means I have to drive 1/2 hour to Guilder to purchase them, which means I don't consume them as often as I would if they were right here ALL THE TIME!!!
Of course I'm a little concerned about my move to New Florin. The town is very small (population 5300) and what if there isn't a store that sells them? I may have to resort to making them myself.....
♥ ○ ♥ ○ ♥ ○ ♥ ○ ♥ ○ ♥ ○ ♥ ○ ♥ ○ ♥ ○ ♥ ○ ♥ ○ ♥ ○ ♥
My newst love:
I LOVE
the TV show Modern Family. Call it my 'guilty pleasure.' It just makes me laugh. Out loud. LOUDLY!! I love the characters... Sofia Vergara is HILARIOUS as the gorgeous wife of Al Bundy from Married With Children. Whenever she opens her mouth, I just know we're going to get lambasted with hilarious lines! Her comedic timing is genius.
♥ ○ ♥ ○ ♥ ○ ♥ ○ ♥ ○ ♥ ○ ♥ ○ ♥ ○ ♥ ○ ♥ ○ ♥ ○ ♥ ○ ♥
I LOVE
(as well as the rest of my family LOVES) Nestle Quick chocolate milk powder.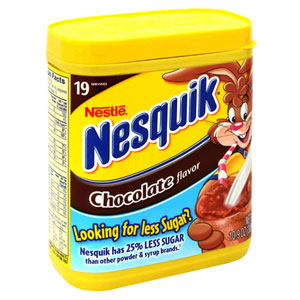 I buy the BIG TALL container of this... 72 servings... and it disappears within a month's time. That's how much we drink! I usually have a glass every morning with my extra-crispy sourdough English Muffin (another
LOVE
) and Buttercup and Inigo will have a glass every day.
Buttercup has never been a regular milk drinker, and I encourage her to drink this so she can maintain her calcium levels. I'm just happy when Inigo puts anything in his mouth. He's so skinny that anything he eats or drinks will help keep him from flying away in a strong wind storm!
♥ ○ ♥ ○ ♥ ○ ♥ ○ ♥ ○ ♥ ○ ♥ ○ ♥ ○ ♥ ○ ♥ ○ ♥ ○ ♥ ○ ♥
I LOVE
my new Alfie Boe CD Bring Him Home. I loved seeing him in concert. The music was so stirring and emotional. I was worried that the audio CD would be flat and leave me wishing I could just live in Alfie's bathroom so I could listen to him while he sings in the shower. That would make me seem slightly perverted, so I'm pleased to announce that the CD fully satisfies my Alfie listening pleasures. The CD just came in the mail yesterday and Alfie show tunes are filling my house.
My next purchase will be the Les Miserables anniversary CD. (Can I admit I'm hesitant to purchase it? I really don't know if I can stomach listening to the Jonas Brother singing the part of Marius. He is certainly NOT Michael Ball... why they cast him is beyond me.)
♥ ○ ♥ ○ ♥ ○ ♥ ○ ♥ ○ ♥ ○ ♥ ○ ♥ ○ ♥ ○ ♥ ○ ♥ ○ ♥ ○ ♥
I
still
LOVE
clouds. And now that winter is releasing her grip on the skies and the ground, I'm finding more and more interesting cloud formations. I hope to increase photos on my cloud blog (clicky on the top link on the right sidebar).
♥ ○ ♥ ○ ♥ ○ ♥ ○ ♥ ○ ♥ ○ ♥ ○ ♥ ○ ♥ ○ ♥ ○ ♥ ○ ♥ ○ ♥
I LOVE
having perspective! We've had some personal struggles in our house the past week and 1/2 and I have felt nervous and stressed. But when I have left home, and started talking to others, I realize that I'm not alone. There are a lot of people who are going through hard times right now... situations that would make me buckle under the pressure...and (for the most part) these people are handling their situation with grace and cheerful attitudes. They are an inspiration to me.
I
also
LOVE
that Heavenly Father hears and answers prayers in the most amazing ways. And the comfort He can give at the most distressing time has made it possible to move forward with finding the help that is needed in our situation. Our struggle is not going to be fixed immediately, but through the power of prayer I know that we will be able to endure and find the solutions we need.
♥ ○ ♥ ○ ♥ ○ ♥ ○ ♥ ○ ♥ ○ ♥ ○ ♥ ○ ♥ ○ ♥ ○ ♥ ○ ♥ ○ ♥
Note: If you follow this blog using a Reader, you may see that there are several posts titled "Test" or "Testing" that have been deleted. I am struggling with Blogger right now. I had to type this whole post under the "Edit HTML" tab because Blogger is not adding any hard returns right now.
For example: I would have written this under the "compose" tab, hitting the "return" button for my paragraph breaks and when I push "Publish" all the sentences would have run together and there would be no visible breaks in the text.
I'm hoping that using the HTML code put the break between each paragraph and fixed the problem.
Is anyone else struggling with this?